Obituary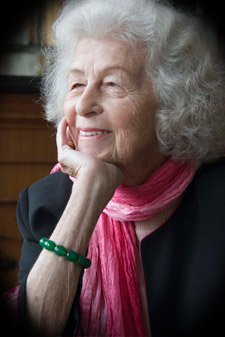 It is with great sadness that we announce the passing of Maria Gomori. She was predeceased by her husband Dr. Paul Gomori in September 1979. She is survived by her son Andrew (Karen), grandsons Paul, Steve (Amber) and great granddaughters Freya, Elise and Laurel.
The world has lost an influential and special woman who touched the lives of many people during her life's journey. She will be mourned by her loving family, close friends and students around the world. She impacted the lives of many people through decades of work as an educator and family therapist.
Maria was born in Budapest, Hungary on May 25, 1920. She received her initial education in Hungary followed by studies at the Sorbonne in Paris. When World War II broke out in 1939, she cut her studies short and returned to Hungary to be with her family. In the spring of 1942 she met and married Paul and in January 1943 their son, Andrew, was born. Following the war, she worked in Hungary as an economist in high level government planning. Maria received an Order of Merit, presented by the Hungarian Government in 1950 for outstanding organizational work in the field of planning.
Through many painful and miraculous events, Maria, Paul and Andrew survived the tragic experiences of the war. Amidst the great political upheaval, she and Paul had decided to search for greater security, education, and freedom for their son, Andrew. The Hungarian Revolution in 1956 led to their harrowing escape, leaving everything behind. In 1957 they arrived in Canada as refugees to begin a new life.
Maria continued her education in Winnipeg and obtained her Master's Degree in Social Work from the University of Manitoba. She founded and built the social work department at the St. Boniface General Hospital in Winnipeg as its first director from 1966 to 1991.
In 1969, she met Virginia Satir, a pioneer in Family Therapy, who became her teacher, mentor, and later her colleague and friend. She studied with Satir, whose theory and practice in helping people and families change, stimulated Maria's work, her approach to people, and her professional career. She was determined to learn how Satir's magic worked and began attending workshops and seminars in many parts of the world where Satir was teaching.
Maria became an important stimulus for advancing the knowledge of her colleagues at the hospital by bringing in teachers and writers in all areas related to therapy. Social workers became part of the treatment team and their role was to be the advocate of patients in the complexity of the hospital setting. High self esteem and standing up for their principles were important criteria for Maria in teaching her staff. In the 1970s working with the entire family was a breakthrough in the field of psychotherapy in Manitoba.
As well as immersing herself in Satir teachings, Maria was also deeply influenced by the integrated body and mind approaches at the Haven Institute on Gabriola Island, B.C. Her curiosity for learning took her to many great teachers in her field of work.
As a result of her ongoing development, her role at St. Boniface Hospital changed from Director of Social Work. Starting as an Assistant Professor of the Medical Faculty of the University of Manitoba, she established a family therapy teaching program in a hospital setting for Residents in Psychiatry and students of other health disciplines.
After Satir's death, Maria continued Virginia's work and became known internationally. Maria dedicated her work in the last 30 years to sharing her learnings. With a unique way of creatively integrating her own life wisdom with that of Satir and other great teachers, she conducted workshops throughout Canada, the United States, Europe, South America, Thailand, Chinese Mainland, Hong Kong SAR, and Taiwan Region, teaching, demonstrating and applying her interpretation of the Satir Model. She was instrumental in helping to develop Satir Institutes in Australia, Chinese Mainland, Hong Kong SAR, Taiwan Region, Thailand as well as in Winnipeg. Expanding the teaching, she developed a group of teachers in Chinese Mainland, Hong Kong SAR, Taiwan Region and in Canada. These people are now teaching this work themselves within their own countries and communities.
Maria was the Founder of the Manitoba Satir Institute and co-founder of the Hong Kong Satir Institute. She was an Emeritus Faculty member at The Haven Institute, B.C. in Canada, a Faculty member of the 2017 Evolution of Psychotherapy Conference (clinical member and retired), an Approved Supervisor with the American Association of Marriage and Family Therapy and a Retired Faculty member of the Aurora Family Therapy Centre of the University of Winnipeg in Winnipeg, Manitoba.
Maria co-authored "The Satir Model" and was author of her autobiography "Passion for Freedom". Her professional books include "Personal Alchemy" (with Adaskin), and "Satir Family Therapy in Action". All are translated into the Chinese language. Her books include Satir based workshops, building on the works of Satir and adding her own learnings and her unique story, perspective and style.
In 1977 she was the recipient of The Governor General's Canadian Silver Jubilee Medal. Maria was also presented with a Special Recognition Award by the Board of Avanta, Satir's worldwide learning network and in 2005 was given The Living Treasure Award from the Global Satir Network. She received the YMCA-YWCA Women of Distinction Award in the category of Health and Wellness in 2003 in Winnipeg. The Key to the Centre Award was presented to Maria by Aurora Family Therapy Centre of the University of Winnipeg in 2016.
Maria faced numerous challenges throughout her life, escaping death on several occasions. She needed to draw upon her strength and courage to survive. Her passion for life and freedom, as well as her determination to protect her family gave her the will to push through each of these challenges. Yet along the way, she never stopped loving and helping the people who were close to her. Her life story is an incredible journey that is inspiring to all that knew her.
While there will be no official ceremony, Maria's wishes are for people to celebrate her life and remember the unique and special way that she touched so many people. In lieu of flowers, donations may be made to The Haven Institute, Gabriola Island, B.C. at https://haven.ca/giving