Maria's Story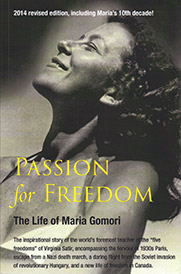 Flip Book
Maria's life is a testimony to the principles addressed by existential philosophies: freedom, authenticity, responsibility, and moral agency. With balance and courage, she also accepts the inevitable challenges of angst, loneliness, and paralysing uncertainties. Her mind is alive with ideas, concepts, and novel perspectives on human beings.
- Jock McKeen, M. D. and Bennet Wong, M. D.,
Friends and founders of The Haven Institute
Although her life has been dangerous, dramatic, and tragic at times, Maria does not carry her history as a burden. . . . She relates it in a deeply personal way that fosters enrichment and inspiration for those who hear it.
- Linda Lee Nicholls,
Friend and colleague
This book is compelling. It will truly amaze and inspire you. You will not be able to put it down.
- Manuel Matas, M. D.,
Psychiatrist
It is amazing that she is still a glamorous woman. What a life!
- Robert S. Spitzer, M. D.,
Psychiatrist